Khalid Kadir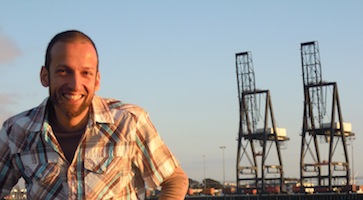 Office Hours and Location
100C Blum Hall, UC Berkeley
510.643.7840 • kadir (at) berkeley.edu
Office Hours, Spring 2014 Semester:
By appointment
---
Khalid is a Lecturer at UC Berkeley, teaching courses in the Global Poverty & Practice (GPP) program, Political Economy, and the College of Engineering. He received his PhD in 2010 from Berkeley in Civil and Environmental Engineering, where his research focused on pathogen removal in natural water and wastewater treatment systems. While completing this research, Khalid was awarded a Fulbright Fellowship to work on water and wastewater treatment systems in Morocco. During this time, he began studying the complex role that engineering expertise plays in the politics of international development and poverty alleviation. His current research focuses on engineering pedagogy, the political economy of household water treatment, and the ecological-engineering of water and sanitation systems.
In 2013 Khalid was selected as a Chancellor's Public Scholar to create and teach an innovative interdisciplinary engineering course that combines community-engaged scholarship with classroom learning to train future engineers to engage with the social and political roots of their technical work. In recognition of his work on this unique course and of his teaching in the GPP program, Khalid was awarded the 2014 Chancellor's Award for Public Service for Service-Learning Leadership. More recently, in 2015-16, Khalid was selected to be a UC Berkeley Lecturer's Teaching Fellow.
In addition to his teaching and research, Khalid has remained engaged with engineering practice, working on a number consulting projects related to water, sanitation, and poverty, both internationally and domestically. He also serves on the Board of Directors for the Environmental Justice Coalition for Water and International Water Partners.
---
Education
PhD in Civil and Environmental Engineering
University of California at Berkeley
Dissertation: Sunlight-Mediated Inactivation Mechanisms of Enteroccocus faecalis and Escherichia coli in Waste Stabilization Ponds
MSE in Civil and Environmental Engineering
University of California at Berkeley
BSE in Mechanical Engineering
University of Michigan at Ann Arbor
---
Projects and Publications
Video: Can Experts Solve Poverty?
---
Courses Taught
CE 113: Ecological Engineering for Water Quality Improvement
This laboratory-based course is designed to engage students in ecological engineering approaches to treat contaminated water. Emphasis is placed on combining basic science and engineering approaches to understand the fundamental processes that govern the effectiveness of complex natural treatment systems. Applications include constructed wetlands, waste stabilization ponds, stormwater bioretention, decentralized wastewater management, and ecological sanitation. Laboratory sessions involve the design and monitoring of laboratory and full-scale natural treatment systems, including a range of water quality measurements.
E 157AC/IAS 157AC: Engineering, the Environment, and Society
This innovative course engages students at the intersection of environmental justice, social justice, and engineering to explore how problems that are commonly defined in technical terms are at their roots deeply socially embedded. Through partnerships with community-based organizations, students are trained to recognize the socio-political nature of technical problems so that they may approach solutions in ways that prioritize social justice. Topics covered include environmental engineering as it relates to air, water, and soil contamination; race, class, and privilege; expertise; ethics; and engaged citizenship.
GPP 105: The Ethics, Methods, and Pragmatics of Global Practice
This course intends to provide students with the necessary background and knowledge to undertake projects of a global scope. To that end, students are exposed to a diversity of methodological frameworks and techniques and encouraged to discuss, reflect upon, and debate the ethics of global citizenship. Students work on projects and assignments that help prepare them for their Global Poverty and Practice minor Practice Experience.
GPP 115: Global Poverty: Challenges and Hopes
This course seeks to provide a rigorous understanding of 21st century poverty alleviation. Students will study many of the currently popular ideas of poverty alleviation, the institutional frameworks of poverty ideas and practices, and the social and political mobilizations that seek to transform the structures of poverty.
GPP 150: Engineering Social Justice
This reading-intensive seminar will explore the relationship between engineering, technology, and poverty. Rather than focusing on narrowly construed quantitative measures of the impact of technology upon poverty, it seeks to understand the relationship between poverty experts — focused on applying technology to solve issues related to poverty and social justice — and their objects — impoverished, under-served, and socially marginalized people.
GPP 196: Global Poverty and Practice: Reflection Course
This course intends to provide students with a forum for reflection on the Practice Experience component of the Global Poverty and Practice minor. Lessons learned in the minor are applied to the realm of public discourse through various forms of public scholarship. Issues of power and privilege, civic engagement, and tensions between tourism vs. travel and community service vs. engagement are addressed. Students also explore academic and professional post-graduation options.
IAS 102: Scope and Methods of Research in International and Area Studies
This course is designed as an introduction to research methods commonly employed in the social sciences, with a particular focus on international contexts. Students are taught numerous research skills through both hands-on assignments and the analysis of key scholarly literature.
POLECON 101: Contemporary Political Economy
This course introduces students to some of the major questions of political economy, economic development, and globalization since 1945. What is the relationship between markets and societies, and what role should the government play in constructing this relationship? What policies and institutions are believed to stimulate economic development, and how are economic developments related to politics? When do international trade and investment create relationships of dependency and exploitation? What is the relationship between environmental and labor rights and the desire for economic growth? What is the role of finance in our economic system, and what is the relationship between the rise of financialization and political power? How has economic growth been fueled in the 20th century, and what are the prospects for the future?