By Morgan Hillenbrand
On a typical day in the village of Mihingoni, Kenya, girls emerge at dawn, traveling down red clay paths against a backdrop of palm trees and corn stalk plants. The beauty of Mihingoni stands in contrast to the tough reality of their lives. These girls—some as young as six years old—are not in school. Today, like all days during the dry season, they will spend hours walking in search of that one element none of us can live without: water.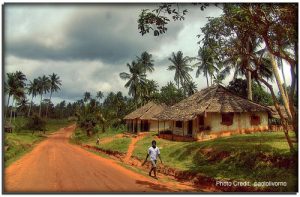 There is a saying in Swahili: "Maji Yaje Kwanza" which means "water is the first of many things". The people of Mihingoni—most of whom are subsistence farmers—depend largely on rainwater for survival, but climate variability and long dry seasons continue to stunt crop yields. Low agricultural productivity decreases household income, and increases hunger. Lack of proper water, sanitation and hygiene leads to disease, and Kenya continues to have one of the worst under five mortality rates, globally. Families are forced to choose between sending their girls for water or sending them to school, and they choose water first. This limits the prospects for their future, and the cycle of poverty in Mihingoni continues. Until now.
Ashley Miller—an alumnus of the Blum Center for Developing Economies at UC Berkeley—has spent the last five years working with the community of Mihingoni to design solutions that will increase their access to water. Miller first traveled to Mihingoni in 2013 when she and her classmate, Louisa Mwenda, took a seven hour drive from Nairobi to attend a family wedding.
"When I said 'yes' to that invitation I had no idea that the course of my life would change forever," Ashley said. "Once I saw the impact lack of water was having on that community, I knew I had to get involved. I have been working with Louisa, her family, and the community on this issue ever since."
Miller returned from Kenya, threw herself into fundraising, and one year and $21,000 later she was on a plane heading back to Kenya to implement the Maji Yaje Kwanza project. Determined to build a sustainable, community-led program, Miller and the team collaborated closely with Mihingoni Primary school, and asked local teachers to help her organize a community meeting where they could solicit and hear the thoughts, needs, and ideas of the community first-hand.
"I didn't want to make any assumptions about what the community needed, or what the solution should be," Miller said. "The meeting was entirely spoken in KiGiriama, which allowed those most affected by the project to fully express themselves and their needs. We wanted to put the people's needs at the center of all of our work."
With just over $20,000, Miller and her team were able to hire 200 people to build and install drip irrigation pipes at the school for a school garden, hand-washing sinks outside of the boys, girls, and teachers' latrines, two drinking water taps and a water kiosk that serves the entire community. Two 10,000-liter water tanks were provided, ensuring water access even during periods of low rainfall. The crew also created a basin for soapy sink water to be recycled for cleaning latrines. And that wasn't all.
Maji Yaji Kwanza collaborated with the local municipality to enact a pipeline expansion across 2.5 kilometers, which would build on the work of several World Bank water projects being implemented in the area. But project delays and variable water pressure brought additional challenges, and the provision of water was inconsistent. The community needed to connect a well to existing infrastructure to ensure water provision year-round. By the summer of 2017 the team had hired a geologist, completed a hydrogeological survey, and secured the necessary permits from the Kenyan government to build the well.
"We've accomplished so much, learned an incredible amount, and we're just getting started," Miller said. "News of our success has spread throughout the region, and that has raised people's hopes and expectations. We are personally accountable to these communities, and that is what drives us to get this done."
Maji Yaje Kwanza is currently fundraising with the goal of raising $10,000 to complete construction of the underground well and water pump. Once the project is completed, it will serve roughly 3,000 people.
"I want people to imagine a life where you can't turn on a tap. Can't turn on the shower, flush the toilet. A life where you look at your daughter and say, 'you can't go to school; we need you to go for water today'. People shouldn't have to make those types of choices. This is a solvable problem, and we all need to be part of the solution."
To contribute to Maji Yaje Kwanza through the official UC Berkeley crowdfunding campaign, visit https://crowdfund.berkeley.edu/project/8853 .The current crowdfunding campaign cycle will be live until February 23 at 11:59 p.m. PST. To learn more about how The Blum Center is supporting students to change the world, visit https://blumcenter.berkeley.edu/.