By Abby Madan and Rachel Voss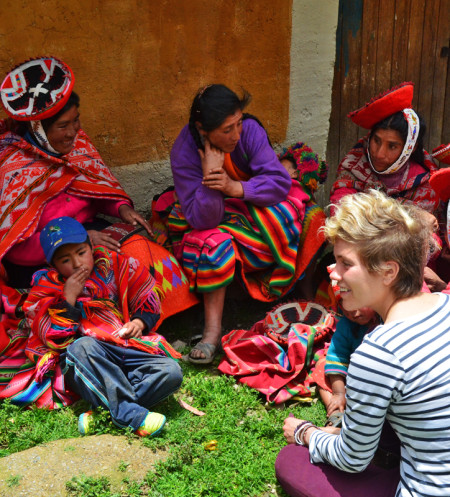 This summer, 49 UC Berkeley undergraduates in the Global Poverty and Practice (GPP) Minor applied their classroom learning to real-world issues of poverty and global development across California and around the world. These "practice experiences," the signature component of the GPP Minor, enable students to work with nonprofits, government agencies, social movements, and social enterprises. Through self-selected fieldwork, students come to understand how the issues they've studied take shape outside of the classroom. This allows students to transform abstract concepts into practical reflections rooted in the realities of poverty and inequality.
Many students' practice experiences take them abroad, often to locations or causes that have UC Berkeley connections. Third-year student Estrella Sainburg is spending a second summer with Fundacion Cantaro Azul, an organization co-founded by another UC Berkeley student that works to address contaminated and unsafe water in underserved regions of Mexico.
"I feel that preparing to work and research with the organization through my Development Studies courses and Global Poverty and Practice courses allows me to understand the organization, the need, and my family's home country a bit better," said Sainburg of her return to the project.
The practice experience is a transformative part of students' undergraduate education. GPP sophomore Stephanie Pardi will complete her fieldwork with Threads of Peru, a fair trade group which works with indigenous artisans in Cusco to sell their traditional woven textiles, helping them build a greater online presence. She is grateful that her practice experience will give her a chance to apply the theories she has studied and develop an understanding of her own abilities, limitations, and responsibilities for changing the world.
"Through the minor, I have realized that the hardest confrontation is with myself and where I fit in the greater scheme of the global order," Pardi reflected.
Some GPP students, recognizing the dramatic effects of poverty and inequality in their own communities, choose to work locally. Emily Rehberger worked in Oakland with Food Shift, an organization that collects wasted food and redistributes it. "Despite the fact that we have romanticized the idea of volunteering abroad, the fact of the matter is that poverty exists right here in our own backyards," said Rehberger. "I would rather get involved here in a community that I am dedicated to and familiar with, and I believe it is important confront these issues locally."
Lucy Sundelson, a third-year student majoring in Urban Studies, joined the GPP Minor after founding a Kiva microfinance club at her high school. This summer, she will be interning with Kiva in the Bay Area.
"For me, working at Kiva for my practice experience feels a little bit like coming full circle: I have the chance to work with the organization that first made me feel excited about poverty action," said Sundelson. "What feels most exciting, though, is that I have a better sense of the ethical issues surrounding microfinance. I'm excited to be able to approach my time at Kiva more thoughtfully and critically than I could a few years ago."
After returning from their fieldwork this summer, students will enroll in a group seminar that encourages deep critical reflection about their experiences. This chance to explore the challenges and contradictions they encountered is invaluable to students.
"I am grateful for my peers who are each embarking on their unique journey to come face-to-face with different sectors of poverty," Sundelson said. "Taking on global poverty is as daunting as it sounds, and the peers in my classes have provided moral support and guidance."
To read students' practices experience blogs, visit our Student Stories page.